As a professional global power electronic instrument manufacturer, customer orientation is the underlying principle of all ITECH's activities. We go the extra mile to know the deeper potential power testing requirements of the various industries we serve. With continuous improvement and innovation, ITECH's wide product series bring worldwide users testing experiences to standards of excellence.
Click here to see ITECH's product catalogue.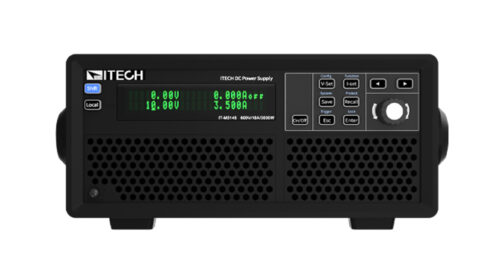 The IT-M3140 Programmable DC Power Supply is a compact 2U half rack solution designed for testing, production, R&D labs, and ATE integration. With power output of up to 1850W and 3000W, and voltage range from 30V to 1200V, it caters to a wide range of testing requirements while saving on equipment costs. It offers constant voltage, constant current, and constant power modes, with automatic wide-range output for enhanced flexibility.
The IT-M3140 combines stability, fast response times (<1ms), comprehensive protection functions, and LIST programmable capabilities. It features a standard USB/LAN interface for easy integration with ITECH's PV3140 software, enabling remote control and data storage. Widely applicable in semiconductor device ATE, burn-in integration, testing and certification, power module development, and automotive electronics, the IT-M3140 is a versatile and efficient power supply solution.
Voltage:30V-1200 V

Current:5A-150 A

Power:1850W-3000 W