APM Technologies' R&D team consists of more than 100 personnel including Ph.D. and master degree holders as well as senior experts in related industries. By collaborating with a number of domestic and international research teams and maintaining a long-term strategic cooperation with leading colleges and universities, the company can ensure products and services are leading the industry. Through applying our professional techniques and technologies to continually innovate and make new breakthroughs, APM has applied for a number of invention patents and already obtained a number of utility patents, design patents, software copyrights and other related patents. Our products have passed the CE, VDE, SAA, CQC, CSA, FCC and other certifications. From the beginning, APM Technologies has always upheld the company spirit of the constant pursuit of excellence.
See the product selection guide here.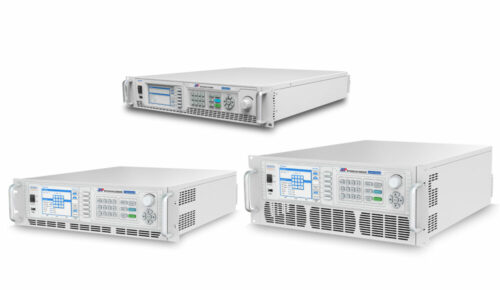 APM's SP-300 Series AC Source is a single phase, multifunctional power supply able to output DC, AC and DC+AC, as well as measure electrical parameters precisely. The touch screen allows for complete, easy operation from the front of the unit, and USB data import/export. It is able to analog output normal or abnormal power input for electrical device testing. The SP Series features high speed DSP+CPLD control, high frequency PWM technology, active PFC design, and up to an 85% conversion efficiency.
Power: 600-5000 W
Voltage: 150-300 V
Current: 2.8-46 A