With the world moving towards carbon neutrality, ITECH strives to meet the world's power testing needs. The increasing demand for electric vehicles, photovoltaics, energy storage, and power grid solutions requires a new generation of power testing solutions. In order to face these new challenges, ITECH has released the new IT7900P High Perfomance Grid Simulator and the IT8200 Regenerative AC/DC Electronic Load.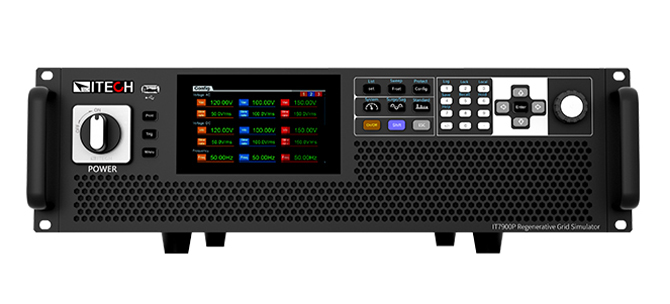 The IT7900P series high-performance regenerative grid simulator provides an all-in-one test solution that can be used not only as a grid simulator and four-quadrant power amplifier, but also as a four-quadrant regenerative AC/DC electronic load. The full four-quadrant operation, regenerative ability can feedback power to the grid, meet the needs of environmental protection, but also saves a lot of electricity and heat dissipation costs. Compact, modular and efficient structure design allows the IT7900P up to 15kVA in 3U single unit, and its power can be extended to 960kVA after master-slave parallel connection. Colorful touch screen with intuitive GUI allows IT7900P to directly define different waveforms. The rich operation modes can meet the test requirement of single-phase, three-phase, inverse-phase and multi-channel. It provides high flexibility for testing and can be widely used in many fields such as PV, ESS and EV.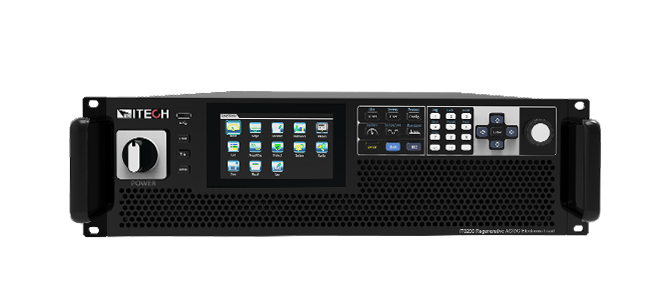 IT8200 Series is a regenerative programmable AC/DC electronic load. It is power regenerative, which not only saves electricity and cooling costs for you, but is also good for saving energy and environmental protection. AC load mode supports both rectification and non-rectification, providing CC/CR/CP/CS/CC+CR/CE operating modes. It can simulate multiple circuit topologies under CE mode such as single-phase rectification RLC Circuit and parallel RLC Circuit. IT8200 can be used in the testing of V2G, EVSE, PCS, UPS, inverter, etc. IT8200 Series utilizes a high power density design, and the power can reach 6kVA in a 2U unit and 15kVA in a 3U unit. After parallel connection, the power can be extended to 960kVA at most. Its LCD touch screen with graphical UI interface can directly define different waveforms. Combined with arbitrary waveform editing function and perfect protection function, it is an ideal choice for R&D testing and system construction.
For more information and datasheets, please visit the product pages. If you require further information, please contact us.