Interconnect Systems & Components
Browse our extensive collection of interconnect systems and components designed for mass interface applications. Our variety of interconnect components and modules will allow you to connect coaxial cables, fiber optics, and more. Our selection of mass interface products features items that are manufactured by VPC and offer exceptional-quality components and modules designed to deliver perfect functionality between connected systems. These components are made with high-quality materials to meet the standards of a wide range of electronic applications in the commercial, industrial, and aerospace industries. If you need any assistance in finding the right interconnect system or component for your needs, contact our team of experts at Electro-Meters today.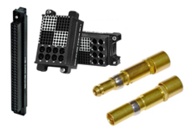 VPC offers an impressive line of coax contacts including 50 & 75 Ohm, 20/26 GHz, 40 GHz, and 50 GHz. Module options vary by contact type and even include hybrid modules.