VPC formerly, Virginia Panel Corporation, designs, manufactures and markets Interface Connector products for both commercial and military applications. Among its credits, VPC has developed the standard interface system for the United States Air Force Modular Automated Test Equipment Program (MATE). In 1987, General Electric selected VPC to design and develop the United States Navy standard electrical interface for the CASS Program. As a member of the ARINC 608A committee, VPC was instrumental in developing the standard for the Interface Connector Assembly (ICA) used in commercial air transport testing. Additionally, as the VXI standard developed, VPC was the first to offer the most comprehensive connector interface available for VXI.

Explore VPC's Virtual Tradeshow for 2021 here.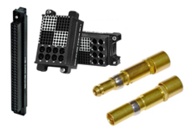 VPC offers an impressive line of coax contacts including 50 & 75 Ohm, 20/26 GHz, 40 GHz, and 50 GHz. Module options vary by contact type and even include hybrid modules.